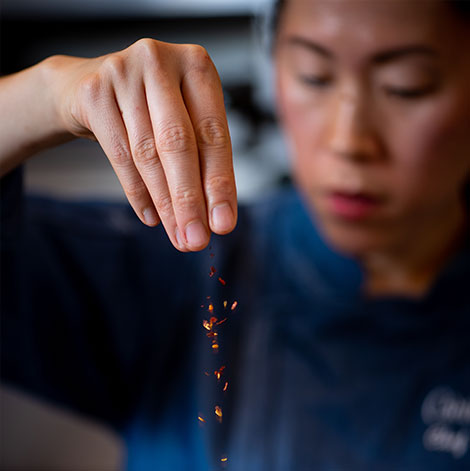 Clara N. Park
Chelten House is fully committed to being the leader in chef-driven, culinary-focused products from around the world. Chef Clara and her extensive background and training make her the perfect fit for this role. Her drive, work ethic and creative problem solving allows Chelten House to offer the right solution for each customer in a speedy and efficient manner.
Experience
Clara Park started her career cooking in the nation's best restaurants after attending culinary school in New York City.
Her passion for food and travel has taken her around the globe including South Korea, China, Japan, Taiwan, Spain, England, Italy, the Caribbean, Mexico and even a long stint in the Loire Valley, France where she was executive chef at a luxury country inn with a farm. She co-wrote a gluten-free and dairy-free cookbook with James Beard Lifetime Achievement Award winner, Barbara Kafka, and was co-nominated for a James Beard Award for Instructional Cooking Video with the team at seefood media. She has spent countless hours teaching cooking classes, writing hundreds of recipes and making everything as delicious as possible.
Her over 15 years of experience cooking, developing and testing recipes, consulting on product development and teaching, give her a unique set of skills that are unparalleled. Her areas of expertise include culinary innovation, creating clean versions of existing recipes, ethnic flavor profiles and client collaboration.
At Chelten House she has implemented measures to reduce waste and the use of single-use plastics. She strives daily to foster a culture of inclusion, cultural exploration and innovation in the kitchen, the lab and beyond. She is committed to bringing the quality and techniques of fine dining restaurants to the public by creating the best products possible for Chelten House and our proud partners.